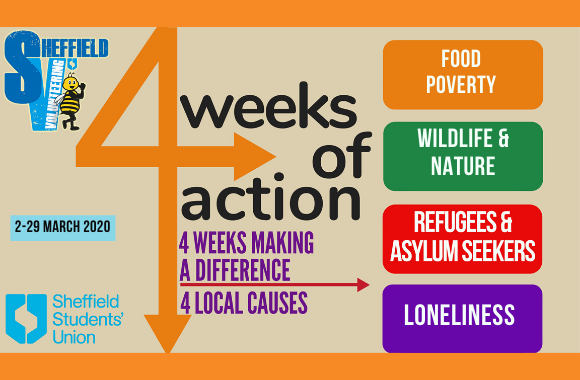 4 Weeks of Action
The 4 Weeks of Action is a Sheffield Volunteering campaign running in March, inspiring and enabling students to find out about, and engage with, 4 key issues in our city.
The issues are:
Food Poverty,
Loneliness,
Refugees & Asylum Seekers,
Wildlife & Nature.
Sheffield Volunteering has organised an exciting programme of activities throughout the month for you to learn about the above issues by getting involved with the charities and organisations on the ground, who are working hard to make a real difference.
You could help out at a Foodbank, get outdoors in a sensory garden or cleaning up the river, serve breakfast to homeless people, sew twiddle aprons for older people with dementia or chat with refugees at the Conversation Club. There are loads of roles to choose from and we would love for you to get involved!
To find out more, or to apply, visit sheffieldvolunteering.com and search '4 weeks'
You can also follow the campaign on Sheffield Volunteering's social media pages. #4weeksofaction Facebook /sheffieldvolunteering Twitter @Shef_Volunteer Instagram
Volunteering is a fantastic way to meet people, explore the city, gain new experiences, give back to local communities and do something different. It is also a way to explore possible career paths, boost your CV and don't forget it can all go onto your HEAR too.