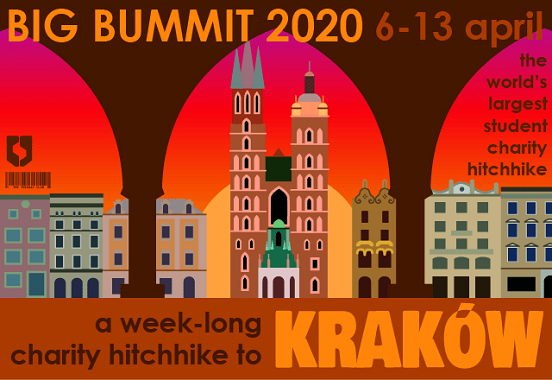 Big Bummit 2020
This year's 'Big Bummit' charity hitchhike comes with a twist!
For the first time ever, Bummit's annual European charity hitchhike will take place over 7 days instead of the traditional 9!
After listening to your feedback Bummit Committee has decided to shorten their trip so that those of you with lots of deadlines aren't prevented from getting involved in Big Bummit!
This year Bummit is heading to Kraków, a beautiful and culturally rich city in the south of Poland, so what are you waiting for? Raise money for some incredible local charities, challenge yourself by beg, borrowing (but not stealing) your way through incredible European cities and return refreshed and ready to tackle your deadlines. It's a no-brainer, right?
Tickets cost £75 and include a night's accommodation, meal and night out at both the halfway and endpoint, as well as travel insurance and a 'Bummit to Krakow' T-shirt and goodie bag!
Check out www.bummit.co.uk for more info and tickets.
INTERNATIONAL STUDENTS: If you are an international student who thinks you may require a visa, please contact bummit.eei@gmail.com BEFORE PURCHASING A TICKET