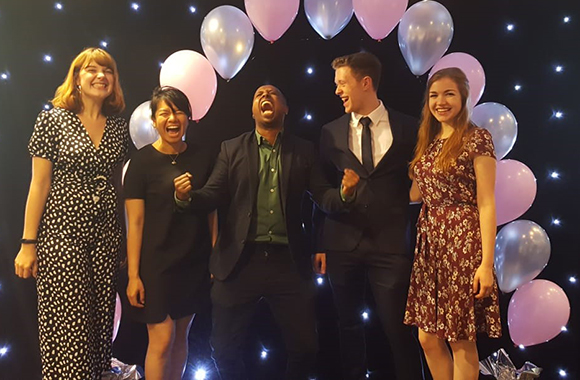 Student Employee of the Year Awards Nominations Open!
If you are a student employee in any organisation or business, the Student Employee of the Year Awards are your opportunity to gain recognition for all the hard work you put into working part-time alongside your studies.
These awards ensure that businesses truly recognise top talent. A SEOTY nominee is doing more than just a job. Students who are recognised by employers should consistently exceed their level of duty, showing outstanding commitment through part-time work.
If this sounds like you make sure your employer knows about the Student Employee of the Year (SEOTY) Awards, and you could be a winner in 2020. If you want us to contact your employer directly, you can fill in this 'Tell My Employer' form.
Beren, your Welfare Officer said:
"I really support the SEOTY awards, and I hope you will all encourage your employers to nominate you! Balancing a part-time job and your studies can be a real challenge and the students who do gain so many valuable skills that help them in later life. That's why I think it's so important to celebrate and reflect on your achievements and efforts, and take a moment to acknowledge just how much you give to your roles at work. Get the recognition you deserve, both from your employer and everyone at the awards!"
Your employer can nominate you for a Student Award here, in the following categories:
Above & Beyond
Commercial Impact
Step Up To Leadership
Freelancer
Best Team
All these categories can be working either on campus at the University or off-campus providing it is a paid part-time job. Each category will be judged at the institutional level with the winners going through to the northeast regional round and then if successful onto the national rounds! We've previously had several of our students highly commended at the national awards.
To be an exceptional employee you need an exceptional employer, so if you think your employer is great to work for, you can nominate them for an Employer Award here!
Nominations close on Friday 27th March 2020.
#SEOTY2020