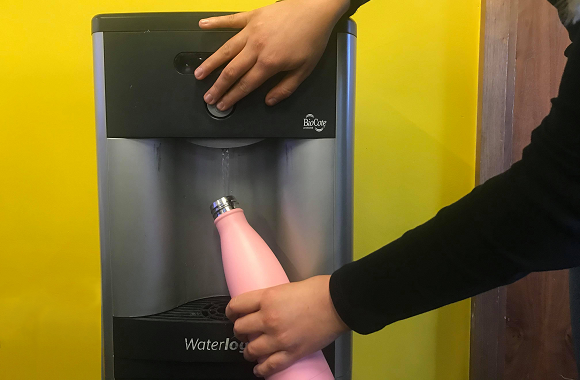 Free Water Commitment Renewed
SU Council have voted to renew our Bottled Water policy, which prohibits the selling of bottled still water in Students' Union outlets in favour of selling reusable bottles and providing free water fountains across the building.
It renews the Students' Union's commitment to provide free water to all students and visitors, and help reduce reliance on unnecessary plastic which is contributing to irreversible climate change.

Harry, your SU Development Officer said:
'We are very proud at Sheffield Students' Union to ban single-use plastic water bottles in all of our outlets. We have been the best SU in the UK for the last 11 years and therefore need to remain on top of our game and be sector-leading for environmental sustainability, and this policy is one of the many things we are proud to hold in this space.'

The policy was originally established by an all student referendum in 2011; well before the current trend in adopting reusables.

Harry continued: 'When the policy passed 8 years ago, it was very much focused on social sustainability, as we believe that water should be free, and for everyone. This still very much remains the case, however, since this policy passed, society, and especially students and the younger generation, have become far more aware of the dangers of single-use plastic and what this throwaway culture has caused for our oceans on a global scale. We are proud to not contribute to this specific litter, and urge other organisations to follow suit.'

'We urge our members to embrace the reusable lifestyle, now, and after they leave our organisation.'

'This is still a drop in the ocean (if you pardon the pun) to what still needs to happen at a mass-scale to combat the climate crisis, and we require big systemic changes if we are to protect the longevity of our planet, however, it is vitally important that we all start somewhere, and if more and more organisations adopt policies like this, then there may be some hope!'

Producing a single use plastic bottle:
costs 500 times more than tap water
uses up to 7 times the amount of water it will eventually contain
generates unnecessary waste. 5.5 billion are thrown away in the UK every year.

Jake, your SU President added: 'I'm really pleased to see that the bottled water policy has passed through SU Council once again. This is a situation where your Students' Union ensures that over profit, for the benefit of our students and the planet going forwards'

If you haven't yet got a reusable bottle you can buy one in either Our Shop or Our Zero Waste Shop on Level 3 of the Students' Union.

You can find free water fountains in the following locations around the Students' Union building:
Level 3 (main entrance level)
The Activities Zone (far wall opposite the desk)
The Sheffield Volunteering Corridor
Our Shop (next to the Coffee machine)
Level 2
Committee Central (next to the TV screen)
Level 4
Wall opposite Uni Central