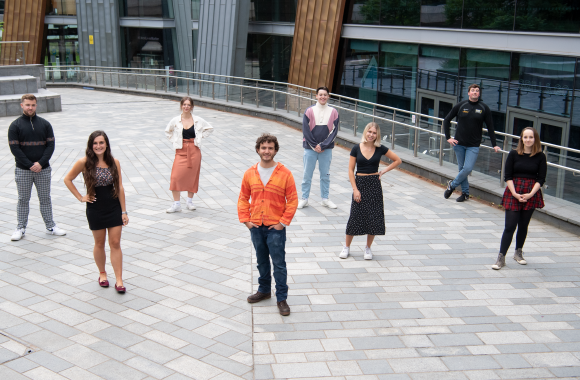 Semester 1 Officer Achievements
Your SU Officer team are reflecting on all the things that they have achieved so far during their time in the team so far
Beth, SU President
Strategised how best to mitigate the effects of the pandemic for students in lots of areas across the organisation, including spearheading our first Forgotten Students win with rent refunds and extension of covid support funding.

Streamlined communications between the SU and university about covid wellbeing.

Secured a fully elected SU Council for the first time in years and created other pockets of student voice so it is at the forefront of our actions, on top of keeping the SU afloat in this precarious time.
Ellie, Education Officer
Helped to recruit academic reps, of which we have had more sign-ups than ever before this year.

Secured more student representatives in time for the first senate meeting of the academic year than ever before.

Contributed to our Forgotten Students of 2020 campaign priorities.

Developed PGR academic rep training with SU staff and consulted PGRs to design a representation system specific to them and collaborated with the PGR Councillor to set up new PGR spaces.
Lily, Women's Officer
Started the academic term off with a celebration of Black History Month which included a poster campaign about Windrush and showcasing amazing black women throughout history.

Launched the first-ever online 16 Days of Activism Against Gendered Violence which included two guest panel discussions and a virtual rally for Reclaim the Night!

Helped to set up and am now co-chairing the University Curriculum Sub-group to review teaching practice and module content to decolonise our university. Alongside this, I have set up faculty forums for Academic Reps to ensure that student voice is at the centre of this work.

I have worked closely with Matt to rollout training for sports teams using the external expertise of the Goodlad Initiative. The funding for this was acquired through a proposal to University and Sport Sheffield members of staff.
Holly, Welfare Officer
Set up online communities for students who don't drink alcohol, students staying in Sheffield over Christmas, mature students, commuter students and distance learners, and student parents.

Ran an online housing campaign encouraging students to take time to sign, take back control, avoid getting stuck in contracts and encourage landlords to reduce rents.

Organised a focus group on University and NHS mental health services as part of a national project.
Jordan, SU Development Officer
Conducted a full financial revamp of the Students' Union that steadily transitioned the organisation through the precarious economic fallout of Covid-19. This included building the 2020-2021 financial budget and ensuring our student experience was not diminished due to constraints. Financial accountability and transparency have been emphasised and I have set up a monthly meeting that reviews our financial accounts and position.

Advocated for the University to complete and announce the Sustainability Strategy. On the week of the announcement, we celebrated the hard work and passion that students have had on sustainability issues at Sheffield over the past 5-6 years.

Implemented and embedded the BetterPoints app that rewards students for active travel.
Matt, Sports Officer
Had the go-ahead from the Vice-Chancellor to produce a long-term University strategy for sport and physical activity.

Redeveloped club sport committee equality, diversity and inclusions training programme.
Sports Committee's mental health video production became the University's most-watched non-campaign piece ever.
Joel, Activities Officer
Successfully acquired a new rehearsal, meeting and storage space for student-led activity from the University.

Have created a review of the current student group core committee position with a revised list being confirmed for the AGM period.

Worked with the Societies Committee to create 'A Series of Collaborative Events' to invigorate society sessions.
Iuri, International Students' Officer
Pushed the university for more support for students in isolation and worked with them so international students can be financially compensated in case they need to take a Covid PCR test in order to go home for the Christmas period.

In talks with the University to enhance the choices of payment for international students tuition fees. Currently pushing for more instalments to self-funded students.

Together with Joel and the International Students' Committee, I'm organising a Christmas Festival especially directed for students who will need to stay in Sheffield over Christmas.

Guaranteed full-time international students' representation in the new officer roles review referendum.


You can keep up to date with the SU Officers and what they're working on via their Instagram.

You could make changes on big issues too. Why not run in the Officer Elections next semester?