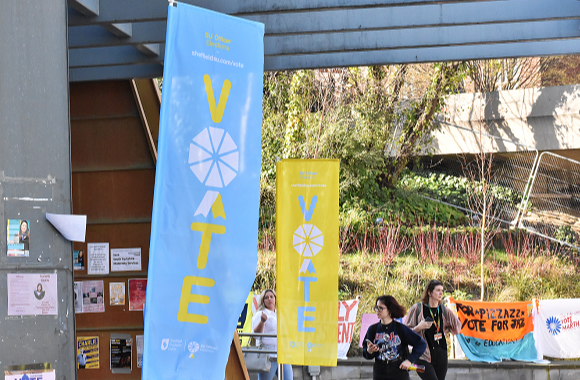 Why should you vote in the elections?
The more you vote in the SU Officer Elections the more you save in Bar One.
Voting is open in the SU Officer Elections 2020. From the first ever election held among students in Sheffield in 1896, to today when thousands of you elect your SU Officers each year, Sheffield Students' Union has always been run by, and for, students.
Not convinced about why you should vote? Here are 5 reasons to vote in the Officer Elections 2020:
Voting is one of the best ways to make your voice heard.
To make change happen for Sheffield students.
The more people who vote, the more democratic the end result.
It's easy and so quick to vote online. You just log in with your uni password, pick, submit.
The more you vote the cheaper Bar One becomes during the voting period!
Yes that's right. Your favourite items in Bar One will drop in price to more voters we have. When we hit 3,000 voters, prices of 20 items of food and drink in Bar One will fall by 30p! Following that for every additional 1,000 votes we receive the price will continue to drop by 10p.
Don't just vote, vote soon, and tell your friends to vote too! The sooner you vote, the sooner prices in Bar One will drop!