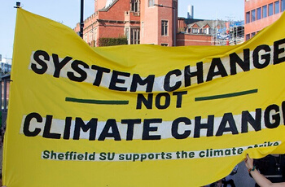 Sheffield Students to join the Global Youth Climate Strike
Sheffield Students' Union is calling on students to join the Global Youth Climate Strike on the 29th November.
Students are being encouraged to support the strike by meeting on the SU concourse at 10am on 29th November, and then march to join the city-wide strike led by the Youth Strikers, taking place in the city center.
School students around the world have been leading the fight against the climate crisis, mobilising over 7 million people globally during the previous Global Climate Strike which took place on 20th September.
Harry Carling, Students' Union Development Officer said: "We coordinated an hour of full shut-down of the SU in support of the Global Climate Strike in September, as well as hosting a rally on our concourse which led to hundreds of students joining the city-wide march. As successful as this was, it's crucial that we don't lose momentum, which is why we're calling for student support in November's Global Youth Climate Strike."
"At Sheffield Students' Union we've been ambitious in our initiatives to combat the climate crisis, from lobbying the University to switch to clean energy providers and divest from fossil fuel companies, to promoting consumer lifestyle changes through our Zero Waste Shop and campaigns such as our Sustainability Step Up."
"However, relying on lifestyle changes and the goodwill of world leaders has failed. We need to transform our whole economy, with climate justice at the heart of every action. Only the power of a mass movement in our streets, workplaces, classrooms and Universities can achieve such a change. We look forward to standing with students on 29th November to show our continued support for the Global Climate Strikes and the future of our planet. "
To find out more about the Global Climate Strikes visit globalclimatestrike.net. More information about Sheffield Students' Union's commitment to sustainability can be found at su.sheffield.ac.uk/get-involved/sustainability.