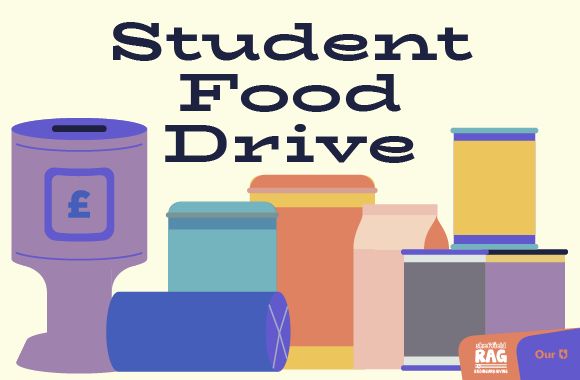 Student Food Drive
Donate food and money to help with food poverty in Sheffield.
The Students' Union Officers along with RAG are encouraging you to help in whatever way you can with food poverty in Sheffield. The scale of food poverty in Britain has been rising for the last decade. Covid-19 has exacerbated this deep-rooted problem in society and communities have been left to provide for their most vulnerable over what we anticipate will be a dark, winter period. We are asking you to help by donating food and money to the SU for us to then pass on directly to local charities to help with the problem. We will be collecting donations until the 4th of December.
Where are we donating to?
burngreave.foodbank.org.uk/give-help/donate-food/
sheffields6.foodbank.org.uk/give-help/donate-food/
How can you donate?
You can physically donate food to the designated drop off point in the SU Plaza and donate money to our fundraising page.
What should you donate? 1
Ideally, money as it is more long term and helps food banks operate most effectively.
However, there is an immediate demand for food too, so if you would like to supply any of the following, please leave them at our collection point.
Long-life fruit juice/squash
Rice pudding
Tinned fruit
Tinned veg
Tinned meat/fish
UHT / powder milk
Sugar
Cooking oil
Biscuits
Cereal
Dried mash / tinned potatoes
Toiletries (shower gel / shampoo / deodorant / toothpaste)
Washing powder
Toilet roll
Nappies/wipes
Baked beans / tinned pulses / tinned tomatoes