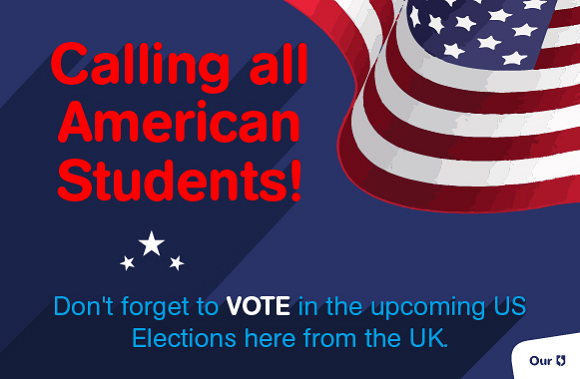 Vote in the US Elections
Calling all American Students! Don't forget to VOTE in the upcoming US Elections here from the UK.
As you are probably aware, the United States are holding their presidential elections on the 3rd of November.
If you are an American student here in Sheffield, we believe that it's really important that you have your say! Undeniably, this is an event that affects not only American citizens but people from other parts of the world as well. By voting for the person you think is best suited for the job, you are helping shape our future. Your contribution is really important!
You can find information on how to register and vote in the following website
You can also find information on the deadlines for each state through our webpage/google doc
To help you with your choice, these are the upcoming events concerning the election:
October 15: Second debate Trump versus Biden in Miami (Florida)
October 22: Third and final debate Trump vs. Biden in Nashville (Tennessee)
October 29: US government presents much-anticipated data on economic development in the third quarter of 2020
November 3: Election Day
Make sure to have your say in such an important moment!